CADDIES
HE'LL TEACH YOU A LOT ABOUT THE COURSE AND EVEN MORE ABOUT TRADITION.

One of the most visible icons associated with golf is the caddie. Unfortunately, they are a rare sight on public courses today. But not here. They're a tradition. Tustin Ranch Golf Club is the only public golf course in Orange County to offer caddies.

Caddies help you understand the details of each hole. They bring back the heritage of the game, enriching your golfing experience. And they're always available by reservation. Ask for details when making your tee time at 714-734-2106.

CADDIE INFORMATION

We require 48 hours advanced notice to reserve a caddie. The green fee and caddie fee must be pre-paid at the time of reservation and both fees are non-cancellable within 48 hours of golf day. Caddies may be hired for 18-hole rounds only on a caddie available basis. Caddie gratuities are optional and at the discretion of the golfer.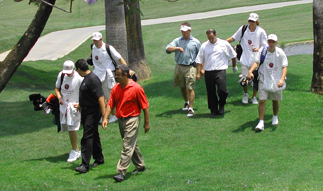 Individual Caddie (single loop):
Caddie works directly for the one golfer who hired the caddie $40.00 (per player)

Double Caddie (double loop):
Caddie is hired by two golfers and carries both bags $30.00 (per player)

Forecaddie: A foursome, usually riding, hires a caddie to work for all players, locate balls, etc. $15.00 (per player)

CURIOUS ABOUT CADDIES?
Here are some forthright answers to some commonly asked questions.

Q: Just what is a caddie supposed to do?
A: Consider a caddie as your guide, your advisor, your assistant, your backpack, your bunker raker, your ball cleaner and your course guide with legs.

Q: I'd be embarrassed to golf in front of a caddie–they're probably all great golfers.
A: No, not necessarily. Caddies are good caddies because they know the course, they know yardages and they know how to make your round enjoyable. Some caddies are good golfers, yes, others are average. But they all are great caddies!
Q: Is the caddie supposed to tell me how to do everything?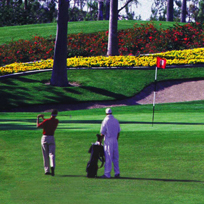 A: Only if you want him to. Some golfers prefer a lot of verbal assistance, i.e., which club to use, tips to help him/her play better, etc. Other golfers prefer their caddie to just carry the bag, rake bunkers, clean the dirty golf ball and keep score. This is something you'll want to work out with your caddie early on. But remember, the caddie is there to serve you. It's your call!

Q: I understand what a single caddie does. What's a "double caddie?"
A: A "double caddie" is assigned the task of carrying the bags of two golfers–you and your golfing buddy. Obviously, that cuts down on the time he can spend with each of you. He will still clean your clubs after each shot, he will still rake bunkers, but after he gives you yardages for your shot, he will then turn his attention to your buddy to see what he needs.

Q: I don't think I 'm a good enough golfer for a caddie.
A: That's the beauty of this, you don't need to be a good golfer to enjoy a caddie. Most of our caddies love going out with a golfer that's "not so great" because then he gets to help that guy become a better golfer. The caddie is there to help the 20 handicapper enjoy his day just as much as the 5 handicapper.

Q: What is a customary tip for a single caddie? A double caddie?
A: Hmmm, that's kind of like asking how much you should tip your restaurant server. But since you asked, tips range from $20 to $100 per player. But the decision is yours, based on the service you feel you received.